Web Content Display
Web Content Display
Informative book Masters cours 2020/2021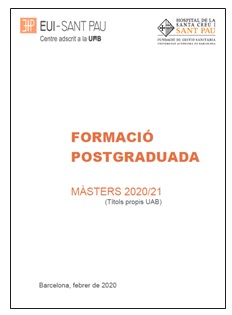 Informative sessions for future students of Master at EUI-Sant Pau
Those interested can attend one of the information sessions scheduled in order to clarify any pre-registration questions.
Due to the current situation, the information sessions of Master 2020/2021 will be held virtually through the Zoom platform.
It is necessary to request a place reservation at the email address secretariaeui@santpau.cat indicating the name of the interested person, and also the session you want to attend, once the reservation has been confirmed, the room ID will be sent to so as to be able to enter on the agreed day and time.
Dates and times of the virtual sessions:
• Psychiatric nursing and mental health
o By Seyla de Francisco on June 5 at 5 p.m.
• Oncology Nursing
o By Adelaida Ramos on June 2 at 4pm and June 4 at 11am
• Intensive Nursing
o By Antonio Torres on June 12 at 12 noon and 6 pm
• Gerontological and Geriatric Nursing
o By Elvira Hernández on June 3 at 5 p.m.
• Advanced care nursing for the person with cardiovascular problems
o By Maite Ricart on June 4 at 12 noon and 5 pm
• Nursing care for children and adolescents
o By Maria Serret on June 3 at 10 am and on June 4 at 7 pm
• Perioperative nursing
o By Beatriz Campillo on June 10 at 12 noon and 6 pm
HOSSPAU Menu
HOSSPAU Menu
Web Content Display
Web Content Display
Useful Information
Academic and Administrative Management Secretary of EUI
Academic Management Staff
Edna Carballo
Sara Farré
Raquel Pujol
Magdalena Sánchez
Neus Taribó