SMOKE-FREE DAYS
COURSE 2022/23
XXIV SMOKE FREE WEEK
The EUI-Sant Pau joins the #niFUM #niVAP Live in full color Campaign!
The Smoking Commission of the Council of Nurses' Colleges of Catalonia (CCIIC), coinciding with the celebration of the XXIV Smoke Free Week - which will take place between May 25 and 31 (World No Tobacco Day), under the motto "Movement is better than smoke or vaping" and of which the CCIIC is a collaborator – launches the campaign #niFUM #niVAP Viu a tot color!
The aim is to convey to the population the dependence and risks posed by the consumption of tobacco and other substances for health. Aimed at the general public, the campaign also contemplates the dynamism action Couples #niFUM #niVAP, aimed at raising awareness among Nursing students and other health disciplines of their leadership role and, at the same time, emphasizing the incongruity that supposes that health professionals (future or current) smoke.
With the aim of provoking interaction, the action is a call to Health students to make a commitment to accompany one/another young person in the process of quitting smoking, putting their training into practice.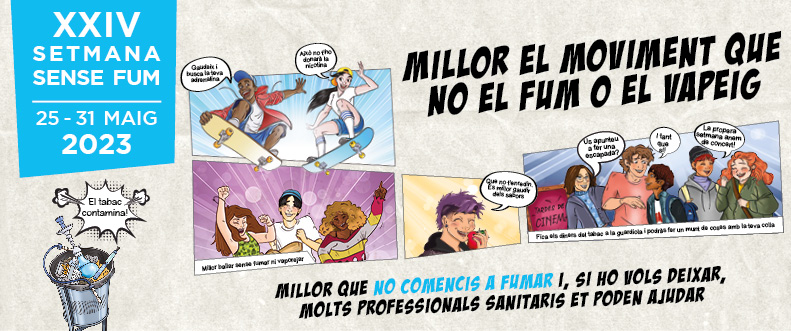 COURSE 2021/22
XXIII SMOKE-FREE WEEK
As every year, we celebrate and participate in Smoke Free Week (SSF), which will take place during the week of May 25-31, around World No Tobacco Day (May 31).
In this XXIII edition, the motto is "Live without smoking and start adding up"
The objective of the Smoke-Free Week is to make the population aware of the importance for health of not starting, giving up tobacco use and being able to enjoy an environment free of smoke and tobacco residues. The Sense Fum week is one of the tools with which each year we make our commitment to promote healthy behaviors a reality, both for children and adolescents as well as for adults and the elderly.
More information on the website of the Agència de Salut Pública de Catalunya (ASPCAT)
COURSE 2020/21
XXII SMOKE-FREE WEEK

The XXII Smoke-Free Week is held from 25 to 31 May. The aim of Smoke-Free Week is to make people aware of the importance of not starting out, quitting smoking and enjoying a smoke-free and tobacco-free environment. This year the motto is "Add Health. When you get active, don't smoke and drink less, add health"
The campaign website is available at: http://www.setmanasensefum.cat/index.aspx